Relatively recently, the laminate is practically not used on floor heating system, because it quickly breaks down. It affects temperature, due to which he cracked, hulling and deform. Now it is used by at least ceramic tiles as floor covering. To avoid frustrations in the device floor heating system under the laminate, should pay attention to some nuances and subtleties in choosing the material for.
special marking
With warm floors may not be suitable for each laminate embodiment. Dies are endowed with excellent insulation properties.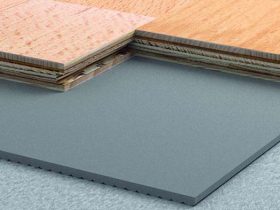 This indicates, what quality can be lost with the passage of time, even if the appearance of the original will. To the maximum to avoid the producers are not standing still. A particular technology can be used without fear of floor covering for electric or water underfloor heating.
To make sure, that the quality of the laminate corresponds to the device warm floor, on the packaging by the manufacturer must be appropriate labeling. Specified allowable temperature limit, to which coating can be heated. In the standard version - it 27-28 degrees.
The same applies to the choice of Heated systems, which will correspond to the selected option for the warm laminate floor water. It is worth noting, that different systems of underfloor heating have their own requirements for floor covering. So, laminated for water floor heating will not be able to go for the electric option. Similarly, in the reverse order.
If you choose the material for the flooring on the floor correctly and requirements, then during operation will not arise problems with heat loss, and excessive superheating surface. Features underfloor heating characteristic not only of laminate, but other flooring options.
All these details will allow us to answer the, a laminate for underfloor heating choose the best, will not lose its quality, conserved during operation.
Determination of the thermal insulation properties
When choosing a laminate floor heating should pay attention to one parameter - the thermal resistance. Thermal insulating qualities will increase depending on the increase of the index.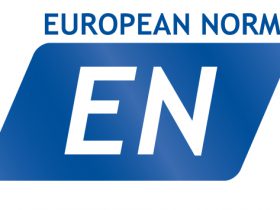 There are European standards EN, according to which the total value of the coefficient, relating specifically to the finishing coating in a laminate, arrange over underfloor heating, must not exceed 0.15 m2*/ W. Resistance should be considered not only for the laminate, but also for the support under it.
On an example, consider the following: make the purchase floor covering with a coefficient 0.051 m2*/ W, and the substrate in this case has a slightly lower figure - 0.049 m2*/ W. If these two numbers add up, then we obtain an estimated value of equal 0.1 m2*/ W. For European standards it is all fully fit.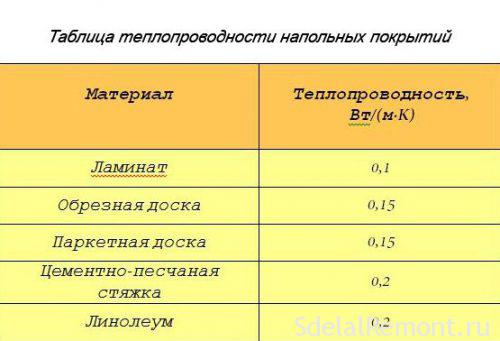 Calculated coefficient of resistance will depend entirely on, a density flooring, and what is its thickness. The optimum thickness of the component is 8-10 mm. When the device electric underfloor or water, better to choose options: a small thickness in the normal range, as well as lower density material.
It is worth noting, that once the laminate coefficient of resistance will increase, above the standard, there is a huge possibility of overheating, overheating of floor heating components. This subsequently leads to the failure of the two components of indoor comfort.
Connection type
Interconnected elements laminate can by means of specially formed or glued locks. Locks are located on the end portions of the slats.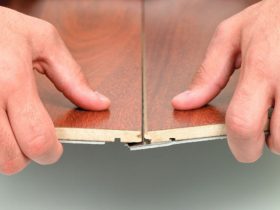 but relatively underfloor heating systems, It can only be used in laying floating, having interlocks. When used in this case, the adhesive, then during heating subfloor, heat will be transferred and the connecting portion. This will lead to disruption of the surface, which will deform.
Castles in the laminate are of two types - Click and Lock. In the first case we have to deal with more complex locks, that between a latched. But locks Lock resemble standard version of "tongue and groove" type. In people, the latter option has compounds called "precast". For floor heating systems (water or electric variant) no special role, what kind of lock is chosen. High quality fastening ensures exactly the type of «Click». Bond strength in this case is considerably increased. Even in the case of constant heating and cooling, drying wooden component, all items will fit snugly to each other. It will not be formed cracks and will not appear deformation.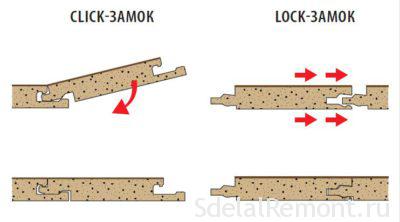 It is worth paying attention to, that type of connection lamellas laminate using «Click» system does not impose severe requirements to quality alignment subfloors indoors. Allowed swings up 3 mm per linear meter.
laminate class
Class laminate indicates its quality and ability to withstand external shocks, abrasion. During the operation of the system underfloor heating any kind, it is exposed to elevated temperatures. This suggests the need for the acquisition of material with high wear resistance. Respectively, Class is best to choose 32 or 33. But if the choice is a floor covering warm floor the appropriately labeled, he will have to have and the corresponding class.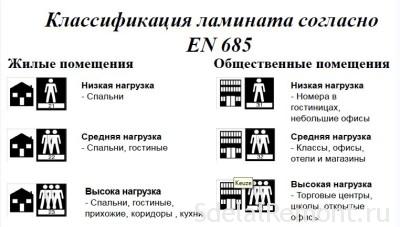 Depending on the type of room on the packaging from under laminate It has certain labeling. But first, to be divided itself an apartment or a house on specific key areas, each of which has its own characteristics and requirements:
sleeping area. Except the dormitories, are isolated and lounges, child. The laminate here can be selected with matt surface, possessing such qualities, as the sound absorption, antistatic, humidity, ability to withstand fire. Due to the extensive range of colors you can choose for any interior. Used often laminate class 21 or 22. Option underfloor heating - heating mats. You can do even without screed. Laying slabs produced at the old base, which serves as a base.
"Transit" Zone. To those premises include an entrance hall and corridors available. Choosing laminate identical, for sleeping area.
relaxation zone. Bathroom, toilet and balcony. In this case, the temperature should not exceed 29 degrees, laminate to provide all its qualities. Handling can be preset using temperature sensor. If the heating is carried out evenly and smoothly in the whole house, the flooring did not suffer, It will not be deformed.
working area. Work room or kitchen. It can simultaneously be several people. That is, the movement organized by constantly. There is a huge possibility in the process of cooking food various debris, fat, and any liquid droplets. Consequently, it is best to choose laminate with the following parameters: moisture confrontation, water repulsion effect (base wax). If necessary, the joints between the panels are sealed all special sealant for better reliability. The maximum heat loss from the water system of floor heating will be guaranteed with the device cement screed.
Often in wet areas choose a special version of laminate - "aqua laminate", capable of contact with water.
Choice of quality substrates
The substrate of choice under laminate floor heating It will depend on the efficiency of the heating system of the premises. Efficiency will be significantly reduced by using thick and dense material. This will involve raising the temperature on the thermostat, which will lead to increased electricity consumption. The optimum thickness pads It should be in the range of 1.5 to 3 mm.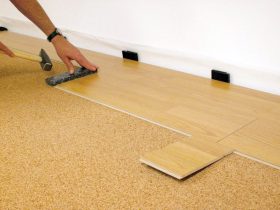 When buying laminate floor heating should pay attention to specialized support, that comes from the manufacturer. It can be made of extruded polystyrene, having perforations in the form of small openings. They contribute actively pass the heat into the room from the heating elements, and also performs its main function - compensation for uneven areas of the subfloor, laminate maintaining.
Among the special options pads include products Arbiton Izo Floor Thermo. It is designed for just such a laminate, arranges on top of the electric floor heating or water of various configurations.
Selection of coating depending on the type of floor heating
Each option imposes a floor heating floor covering, especially if it is a laminate, certain requirements. They should understand and more, to put them into practice.
Infrared Heated floor. It is characterized by excellent heat dissipation. Flooring heated not so much, but the air is heated to a comfortable condition. This indicates, that the laminate is suitable as well as possible, by the way, after exposure to temperatures much it would not be. Also here it stands and uniform heating of the entire subfloor and the flooring. When choosing a laminate product preference 33 and 34 Class of abrasion resistance, and the thickness should not exceed 8.5 mm, not to absorb large amounts of heat.
Heating mats and cable floor. When buying laminate in this case, the packaging complies with the marking shall be, it can be used for this embodiment of floor covering. In addition, should be on the packaging of the thermal conductivity data, environmental safety, resistance to mechanical damage and abrasion resistance.
So that its heating system in the room and answer, a laminate floor for warm water or electrical pick.
"Two in one"
Not always have the desire to get a warm floor or water electric, and then hold laminate flooring as. some deem, that perform double duty. To avoid this, you can buy the option "two in one".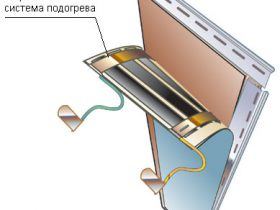 It will not ask too many difficulties in the selection of the laminate and the substrate beneath it. Grateful for that company should Alloc, which enabled artists to arrange in an apartment combined production of heat-insulated flooring and laminate. It is named Alloc Heating System. The system consists of three layers:
Sound insulation and noise absorbing substrate.
laminated strips, having 32 and 33 durability class.
For a system characterized by aluminum locks Click, which ensures not only perfect fixation during operation, but also the safety of the whole structure. Perform installation just got easier. To do this, you must initially connect a wire between the heating elements, then snap interlocks aluminum laminate slats. Included with the system is represented by a thermostat, which can easily be programmed depending on the needs.
We can say in simple language, ready system that allows any artist in a few hours, depending on the area to arrange the room, Heated floor to create a ready-made floor covering one. Follow all the action of "turnkey", because after the distribution of elements on the surface do not have to have anything.
Be sure to highlight other points, which are characteristic for the system, "two in one". It heating elements built into the floor, and not under it.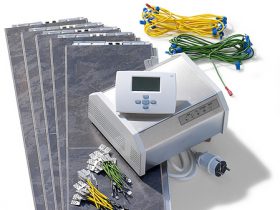 Consequently, they are located very close to the surface, which reduces heat loss by about 25-30 percent. Allocate and other characteristics of the combined system:
Low cost, compared to heating cables (about 30 percent).
The possibility of combining areas with heating and without it.
capacity is 60 W per square meter of room area.
inertia - 10 minutes at room temperature in 20 degrees.
It is worth noting, that when any embodiment of the laminate under floor heating or water electric, should pay attention to its manufacturer, who can tell a lot about their products. This is another item, allowing to determine the order, some choose to laminate underfloor.
Featured manufacturers
Various manufacturers produce certain products. In some cases, it can even be called an exclusive. So, to the number of those include the Belgian company Quick-Step, offers its customers an exclusive collection, a huge range of products with high durability.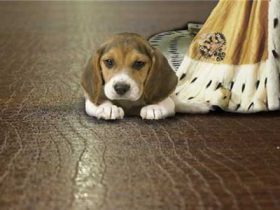 Exclusive boasts the company Ritter, with important and attractive collections, they differ in decor and style.
If you want to buy laminate at low cost and still get fairly decent quality, then the choice should be stopped at the company Kronospan. Among these can be attributed to the company Kronostar. A huge range of products and high quality laminate can share company Tarkett, has besides a large variety of color schemes, allows you to choose an option for any type of interior room. Even the most demanding customers from the presented list of products will be able to find a suitable option. All of them are of high quality and reasonable price.
When necessary for warm water laminate floor, which to choose, It should be based on specific items, about which was said above. If they are combined in a single floor covering, eventually get a really high-quality design. But I do not always want to think about, how to choose a laminate floor heating. In this case, you should pay attention to the heating system of "two in one". Combining all of the major components of a warm floor, we get heating "turnkey", which is performed in a matter of hours. The article was written for the site https://sdelalremont.ru.